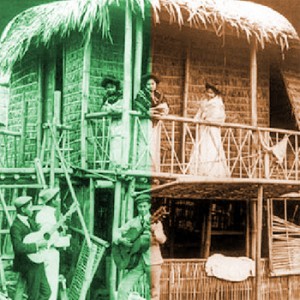 By Florante Aguilar and Fides Enriquez

Harana is the vanished tradition of serenading prevalent in old Philippines. While most Filipinos are still familiar with this custom, it is mostly that – only a passing familiarity exists. We can hardly be blamed because there truly was no in-depth study ever done of this once-important part of Philippine social fabric. Most of what we know came from stereotypical and romanticized versions depicted in old movies and paintings. Certainly, the citadels of academia did not pay much attention to this courtship ritual perhaps because they never considered it an art form and relegated it more as plebeian endeavor of the popular culture. Thus, herewith we debunk the top ten misconceptions about harana.
10. Harana is performed by a lone suitor
The image of a lone singer/guitarist under the window at night (which I am guilty of perpetuating on the cover of my first album The Art of Harana) probably happened more often in the movies than in real life. The truth is harana was indeed a bigger social event. In fact, it was a call for an evening soiree, with the interested party bringing along his friends for moral support. And for those with the taste for extravagance, hiring the best musicians in town. It's an instant party should they be lucky enough to be invited inside.
9. Water (or worse) is frequently thrown at unwelcome visitors
There is one thing we guarantee Filipinos will mention during any talk regarding harana – they will drop a lighthearted comment about toilet water being thrown at the haranistas during a serenade. Banish this thought forever! This notion was perpetuated and became fodder for comedy skits by bad movies and televisions shows. This image probably single-handedly devalued and prevented from surfacing the true elegance and cultural importance of the harana ritual. The image of the yellow water is stuck forever in the minds of many Filipinos. According to the harana practitioners we interviewed, in their thirty or more years of serenading, never once did this happen. In fact, they said it was unthinkable. The whole endeavor was respectful and formal, with everyone on their best behaviour observing the protocols. One haranista mentioned that if the window was not opened after a few songs, they simply proceed to sing a Pamaalam or farewell song containing a gentle apology for any inconvenience caused.
8. Men were the only ones who sang during the nocturnal ritual
It's a little known fact that haranistas have scouting reports on which women in their town can be expected to join in the singing. This was at least true in Cavite province where we were introduced by the haranistas to an elderly lady whom they used to serenade and sing duets with. One haranista from the same province claimed that women who can sing were more likely to be serenaded than those who cannot. In fact, when joined by the woman, the whole night becomes a ritual of call-and-response singing, with the woman choosing appropriate songs to serve as playful clues to her true sentiment. Women were indeed known to be active participants rather than passive listeners.
7. Some haranistas show up drunk and behave badly
True master haranistas follow a code of honor. The term they used was "magalang at maginoo" (respectful and gentlemanly), the epitomy of chivalry. After all, they were representing the young men who requested their services. They come well-groomed and in their best clothes. They were also known to gently coach young suitors too shy to express themselves. As with anything, there will always be bad apples but it is more of a rare occurrence.
6. Harana is an unstructured, anything-goes event
Harana was a formally structured event with a set of protocols to observe. There are different stages with each stage containing a specific set of songs, and the master haranista leading the way based on how the evening is progressing:
Panawagan (Calling or Announcement) – Haranistas sing a set of songs announcing their presence outside the house. Songs like Dungawin Mo Sana (Wishing You'd Look Out the Window), Dungawin Mo Hirang (Look Out the Window, My Beloved), Sa Gitna Ng Dilim (In the Midst of Darkness), etc.
Pagtatapat (Proposal) – If the haranistas are invited into the home, the lyrical content of the songs change. This is where the singer used songs that openly declare admiration and describe the virtues he values in a woman. Many popular love songs of the day are sung here (Ibig Kong Magtapat Sa Iyo Paraluman, (I wish to Propose to You, My Muse), Lihim Na Pagibig (My Secret Love) and Kung Ika'y May Alinlangan (If You Ever Doubt Me).
Panagutan (Response) – It is at this point where the woman responds in song if she is inclined to. She may respond with "Ang tangi kong pagibig ay minsan lamang..." as a diplomatic 'I'm not ready' sentiment. Or she may respond with "O kay sarap mabuhay lalo na't may lambingan" which can be taken as a sign of reciprocity. If it appears the woman is not interested, haranistas in turn choose their next song accordingly – songs like Ako'y Isa Na Ngayong Sawi (I am Now Brokenhearted) or Pusong Wasak (Shredded Heart).
Pamaalam – Haranistas have a set of farewell songs upon the conclusion of the evening. Songs such as Winawakasan Ko (I Hereby End It) and Bakit Di Kita Maiwan (Why Do I Find it Hard to Leave You).
For more on this topic, please read The Different Stages of Harana here.
5. You can sing any song you want in a harana
During a serenade, one can pretty much sing any love song he likes, even English ones, and still get away calling it a harana. But if you are going for a truly authentic harana experience like they did in old Philippines, you have to use a particluar set of songs specifically written for the endeavor. These were harana and kundiman songs written by some of the best-known composers in the last hundred years such as Santiago Suarez, Constancio de Guzman, Nicanor Abelardo, as well as other traditional songs specific to a region.
4. The suitor is also the singer
The Philippines may be a nation of singers but not all singers are created equal. And since the success of the endeavor depends largely on the skill of the singer, men sought the services of master haranistas – the best in town. It is these master-level artists we sought after that became the heart of our documentary film HARANA.
3. Haranistas show up unannounced
While harana certainly happened unannounced perhaps more often than not, there are many instances when a suitor would ask permission from the parents to serenade in advance. This ensures the lady is home in addition to receiving advanced blessings from her parents.
2. The woman decides whether or not to invite the haranistas in
While the object of harana is certainly the maiden, it is a fact that any courtship endeavor must be under the watchful eyes of her parents in conservative old Philippines, especially so in rural settings where private meetings between men and women were frowned upon. With sentiments expressed under the guise of the songs, free of malice, and with everyone on their best behavior, harana became an outlet and a parent-sanctioned way for youngsters to meet the opposite sex. As such, it is the parents who have the ultimate say whether to let the haranistas in or not.
1. Men used harana to declare their love for a woman
Contrary to this popular notion, the most common instance that sets a harana in motion is the arrival of a woman from a big city (like Manila) who is in the province for a vacation. Also, maidens from nearby villages who are in town for the harvest. The glimpse of a new arrival signals the men to organize themselves and bring out their guitars. Harana then was not necessarily only about the declaration of romantic love but more often a social call for young men to introduce themselves.