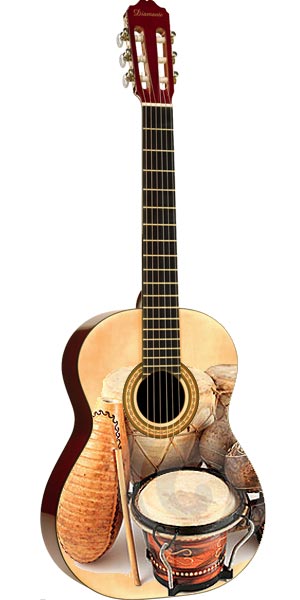 I was once chastised for using a distinctly Latin rhythm on a popular Filipino harana song 'Sa Gitna Ng Dilim' on the opening scene of the Harana The Movie trailer. "Travesty!" they say, a bastardization of the noble harana rhythm. "This guy should be shot", etc. One person even said that I used the cha-cha rhythm on a harana, never mind that the rhythm was nowhere near a cha-cha.
But one remark stood out in particular that became the seed of this blog topic – "the harana is a Filipino original and should not be treated with Latin rhythms", proudly wrote an anonymous poster.
The rhythm I applied to "bastardize" the harana song and which caused so much consternation among "purists" is called tempo de bolero. Particularly, Cuban bolero in 2/4 (not to be confused with Spanish bolero which is in 3/4 as in Ravel's Bolero).
Firstly, it is important to remember that the harana is and has always been Latin music derived.  In the Philippines, the harana rhythm is referred to as danza (Listen to this rhythm ). We don't know how that started – it seems only Filipinos refer to this rhythm by that name. Outside the Philippines, the very same rhythm is called tempo de habanera from the old Spanish port of Havana, Cuba. I suspect that Filipinos came to call it danza as short for danza española.
The danza is a variation, if not an exact copy, of the Cuban habanera and the Argentine tango. Considering that all these rhythms are of Latin origin, it is therefore, not such a travesty to apply other rhythmic variations such as tempo de bolero on a harana. In fact, the haranistas themselves used it to liven things up. (Listen to master haranista Felipe Alonzo singing the Ilocano song 'Dardarepdep' ).
So, if Filipinos don't own the danza rhythm at all, aren't we just being copycats? Well, no. What Filipinos did was to take that rhythm, put their stamp on it, and made it their own. Specifically, we slowed that rhythm down to a grind and symbiotically paired it with the poetry of the Tagalog language to form courtship songs.
And it is clear the same process had been happening during Spain's Magical Mystery Grand Colonization Tour. At each stop, the natives took the Spanish rhythms, played with it and made it their own. And the result? Argentina has tango. Cuba has son. Mexico has mariachi. And Philippines has harana.
Once, during a rehearsal for the Manila Galleon Guitar Music concert, the Latin musicians I worked with laughed when I casually remarked "lets use this rhythm, it's more Filipino sounding". They say there is no way that rhythm is Filipino. To which I respond, "oh yes it is ours as much as it is yours. We just put our own flavor to it the same way you put your stamp on salsa, rumba, cumbia, merengue, mambo, etc."
I don't think they bought it. But we had a hell of a time performing Filipino music using Latin rhythms. It worked like magic which in itself proves the point (see video below).
And to the detractors and harana "purists", they certainly do not have to like it. But denying a clear commonality with other Latin rhythms is at best unenlightened and at worst having a misplaced sense of righteousness.
We do agree on one thing though –  that the harana is truly our own.
___________________________________________________________________________
Florante with Latin musicians playing Philippine folk dances from the Manila Galleon Guitar Music CD launch concert:
Related Links:
Harana the Movie – www.haranathemovie.com
The Manila Galleon Guitar Music – www.florante.org/galleon
The Art of Harana – www.florante.org/artofharana
The Difference Between Harana and Kundiman – www.florante.org/blog