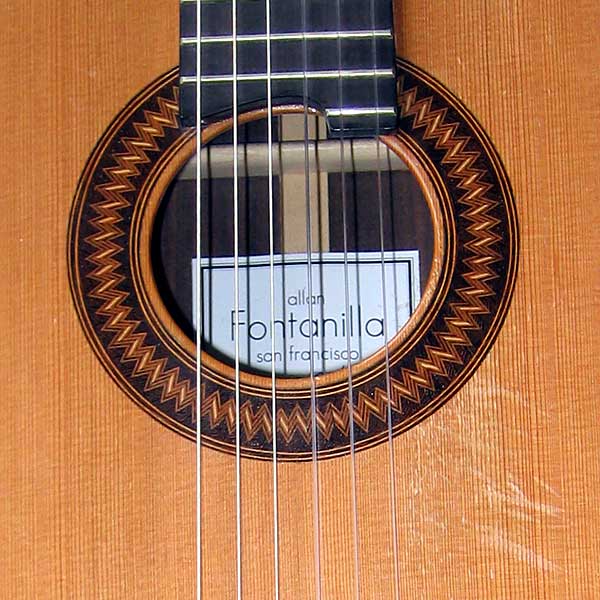 Many have asked (mostly guitarists) what brand of guitar I use. Currently, I am using Cordoba Soloista flamenco guitar. I love the bite and the growl typically associated with flamenco guitars. It's sounds great when I play with my ensemble Fandangueros.
I'm also using a 2002 Fontanilla guitar built by Filipino-American luthier Alan Fontanilla. Although I typically favor the tender tones of the spruce-top guitar, Alan's cedar-top guitar provides a "refreshing departure" into a more hot-blooded pagan sound (listen
).
For the Art of Harana recording, I used a vintage spruce-top 1962 Velazquez "El Clasico" (except for tracks 3, 5 & 7*). It possesses a sweet and full-bodied sound with great sustain as only a 48-year old guitar can. This guitar perfectly complements the singing tones of a harana (listen
).
But as often happens with older guitars, the fretboard has bent considerably due to decades of string tension. This results into higher action that makes it more challenging to play. If you're detecting labored passages in the recording, that is my excuse!
Special thanks to Dean Kamei, owner of Guitar Solo store in San Francisco and GSP Publications for lending the Velazquez used in the Art of Harana.
| | | |
| --- | --- | --- |
| Luthier | Wood | Samples |
| 1. Cordoba Solista (2009) | spruce | listen |
| 2. Fontanilla (2002) | cedar | listen |
| 3. Velasquez "El Clasico" (1962) | spruce | listen |
| 4. Antonio Marin (1989) | spruce | listen |
| 5. Kohno "Special" (1988) | spruce | listen |
| 6. Cordoba 75R (1999) | spruce | listen |
* played on Fontanilla guitar