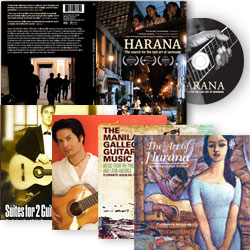 Award-winning HARANA film, its companion album s and three of Florante Aguilar's bestselling albums:
Introducing the Harana Kings
Soundtrack to the Harana movie.
The Art of Harana
A collection of classic Filipino serenades arranged for and performed on solo classical guitar.
Tipanan – A Celebration of Philippine Guitar
Features a collection of harana, kundiman, classical, and contemporary Filipino compositions.
Manila Galleon Guitar Music
Argentina has tango. Mexico has mariachi. Cuba has son. Philippines has harana. The Manila Galleon Guitar Music traces the commonality in music brought on by the these giant trading ships.