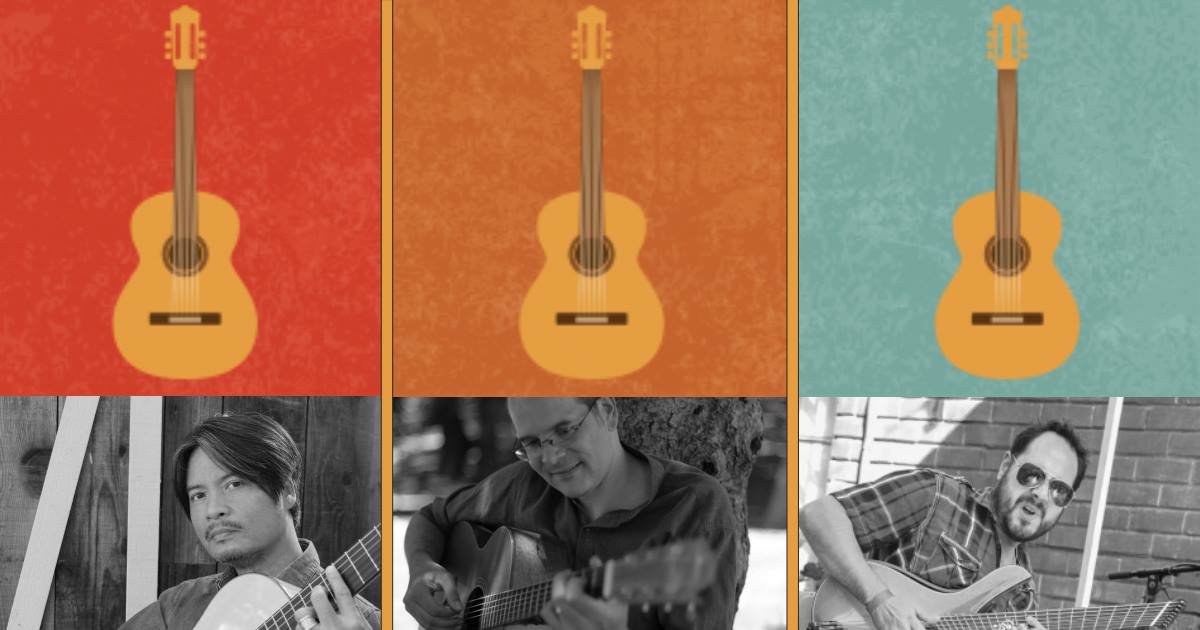 Florante Aguilar, Teja Gerken, and Nate Lopez area team up for an eclectic evening of solo and ensemble playing. Presenting a multi-facetted show—Aguilar is a conservatory-trained classical musician, Gerken a modern fingerstyle master, and Lopez an eight-string jazz and groove specialist—"3 Guitars: Electric, Steel, and Nylon" leaves few pages of the guitar book unturned, and listeners will experience classical masterpieces, jazz standards, pop classics, Celtic melodies, and original compositions, played on electric, steel-string acoustic, and Spanish-style nylon-string guitars.
Manila-born guitarist/composer Florante Aguilar was classically trained at the San Francisco Conservatory of Music. A seasoned solo recording artist, Aguilar has won several composition awards, most notably from the National Endowment for the Arts and the Gerbode Foundation. He has performed at the Lincoln Center and Hollywood Bowl. Florante's work can be seen on the PBS documentary Harana chronicling his search for the last surviving practitioners of serenade music in the Philippines. Florante has written for musical theater, dance, solo guitar, chamber, and world ethnic music.
Teja Gerken is no stranger to fans of contemporary fingerstyle guitar. Weaving together influences of folk, jazz, classical, and world music, he is known for his original compositions, many of which employ alternate tunings, two-handed tapping, percussive effects, and other extended guitar techniques. Gerken's two albums, On My Way, and Postcards, have received widespread acclaim, and he has shared the stage with many guitar legends, including Alex de Grassi, John Renbourn, and Andy McKee. WEB: www.tejagerken.com. VIDEO: https://youtu.be/J7khy_8uhCA.
With the aid of his unique eight-string hybrid guitars, Nate Lopez creates original music and arrangements based on timeless favorites from every imaginable genre. Incorporating the guitar, bass, drum, and even the vocal lines on a single instrument seamlessly enough that if you closed your eyes, you'd believe what you were hearing was at least three separate master musicians. He has earned many accolades, including winning the Arkansas Contemporary Fingerstyle Guitar Competition in 2015, and was voted Best Acoustic Musician in the North Bay for 2017. WEB: www.natelopez.com. VIDEO: https://youtu.be/EMVVlDpiSfE.